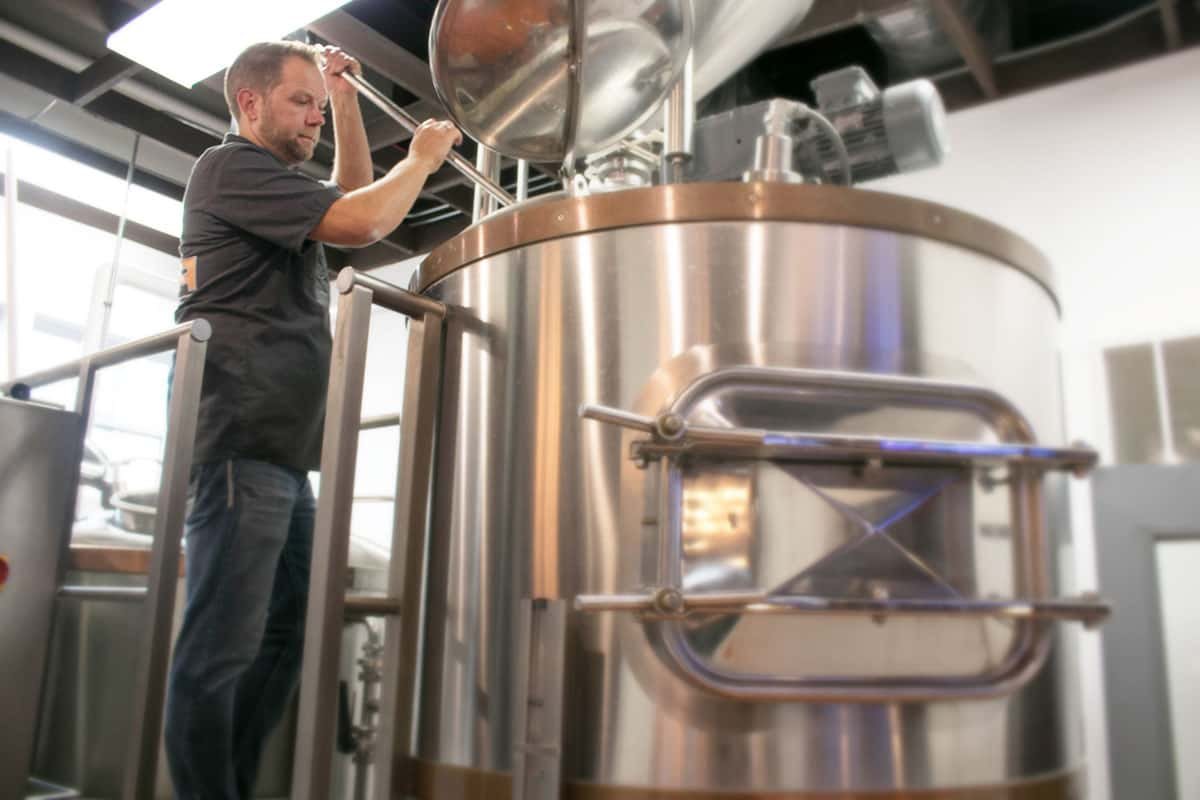 What's On Tap
Craft Beers Brewed Onsite
TRUFFLE SHUFFLE
ABV: 6.9 % IBU: 16 AVAILABILITY: SPECIAL RELEASE
This beer will deceive your thoughts, all the flavors and the mouthfeel of a deep dark stout but pours a rich golden color. Large amounts of creamy chocolate and tart raspberries blended with a balanced amount of malt to add just subtle notes of caramel and toffee.
PINKY AND THE BRAIN
ABV: 10.5% IBU:100 AVAILABILITY: SPECIAL RELEASE
Availability: Special release
This Belgian style double IPA focuses on the sweet biscuit bready flavor profiles of a full bodied Belgian beer with copious amounts of hops. With the addition of Pink Guava fruit, dry hopping and six weeks of conditioning this beer has great aroma, an enhanced juicy mouthfeel and a clean finish.
PERCEPTION IPA
ABV: 6.3% IBU: 35 AVAILABILITY: YEAR ROUND
We proudly serve Perception unfiltered to preserve its hazy nature. This New England IPA has a softer mouthfeel and lower bitterness compared to traditional west-coast IPAs. The use of English yeast and generous dry-hop additions yield an IPA that is juicy, tropical, and bursting with flavor. What's your perception?

BLOOD ORANGE WHEAT
ABV: 5.66% IBU: 12 AVAILABILITY: YEAR ROUND
Our flagship brew, this cloudy wheat beer is crafted with fresh orange peel and toasted coriander. We add a generous helping of blood orange puree after fermentation to give it an easygoing, fruit-forward character. Light and sweet with a hint of spice.



HABIT FORMING
ABV: 5.4 % IBU: 14 AVAILABILITY: YEAR ROUND
Peel's take on a traditional German-style Munich Helles. A bright golden color and persistent white head will take you to the aroma of sweet bready malts. This beer is malt forward to allow for a bit of sweetness while the traditional German hops add a small amount of spice and citrus flavors.


ALTerior

MOTIVE



ABV: 6.8% IBU: 25 AVAILABILITY: YEAR ROUND
Brewed in the traditional Northern German style originating from the 1600's. Deep copper colored and cool fermented and cold conditioned, clean tasting with a slight hop bitterness at the end. The aroma is sweet with hints of caramel, toffee and bread in the background. This beer has a slight dry finish and offers a smooth mouth feel.
BURNT OUT
ABV: 8.2% IBU: 35
Strikingly bold and undeniably beautiful, brewed with a generous amount of dark malts and Belgian sugars. The aroma of dark fruits and caramel compliment the tan head. Notes of chocolate, raisins and figs enrich your pallet while subtle caramel finishes each drink.
BELGIAN STRONG ALE
ABV: 9.09% IBU: 26 AVAILABILITY: YEAR ROUND
Orchard fruit aromas greet you through the white lacing of this bright golden brew. Peel's Belgian Strong Ale has subtle hints of orange and spice, supported by an earthy malt balance. Its vibrant carbonation and dry finish will quench your thirst like a pro.
PANDEMIC PARADISE
ABV: 7.1 % IBU: 65 AVAILABILITY: LIMITED RELEASE
Our latest IPA will take you to far away islands with the initial aroma punch of tropical fruits. Flavors of pink guava and pineapple will wash over your pallet along with slight bitterness from our hop additions.


BROWN ALE
ABV: 5.4 % IBU: 24 AVAILABILITY: LIMITED RELEASE
An approachable beer with bold flavors of roasted malts, hints of chocolate, coffee, and vanilla. Finishes smooth and creamy.
STEEL MONKEY
ABV: 6.3% IBU: 26 AVAILABILITY: LIMITED RELEASE
A spiced ale conditioned with maple staves that were soaked in Brandy. Notes of cinnamon, banana and molasses compliment the smooth and bright mouthfeel.
BREWERY FLIGHT
Choose any 4 peel brewed drafts 4-5 oz drafts $9


GROWLERS/CROWLERS
All Peel Brewing Co. beers are available in take home growlers and 32 oz Crowlers – ask your bartender for details!
PEEL 30 L. KEGS
Get a keg of your favorite Peel Beer for your next gathering for $110